Your podcast speaks to many listeners at once while connecting immediately with an individual. Turns out, so does an email newsletter. You send an update, and poof, it arrives as a personal message right into the inboxes of your audience. Sounds a little like a podcast delivery, doesn't it?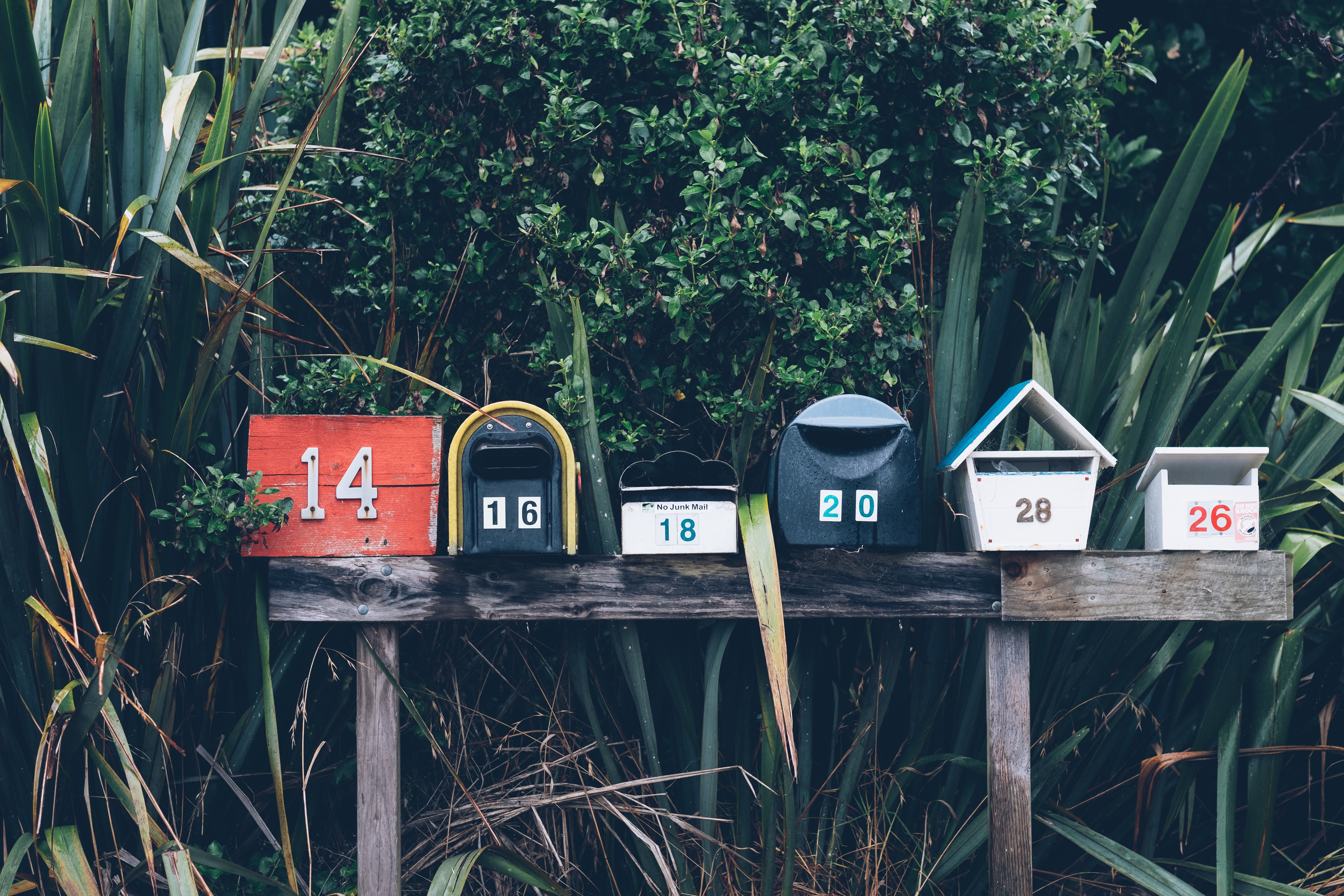 Why should I create an email newsletter for my podcast?
Adding depth to your podcast and strengthening a direct connection with your audience are the two primary reasons to create an email newsletter.
The benefits go way beyond that as well:
Manage your own relationship with your fans. Building community along with and among your listeners continues to strengthen your connection with your audience. (They're why you're doing this, right?)
Encourage fans to engage (and re-engage). With the two-way connection via email, you can gather feedback on the show so far or gain additional insight from listeners to support future episodes. Additionally, with an email, you're catching your listeners when they're set up to engage in a specific call to action that would otherwise be challenging if only heard audibly. Visiting your website is easy when all they have to do is click on a link rather than remember the URL for a signup page!
Add an additional dimension to your podcast. This is an opportunity to bring in visuals or things you couldn't fit into the episode to the forefront. You can also direct your audience to new additions to your website from your newsletter, too.
Provide another data point for showing advertisers how engaged your audience is with your show. This can go in two directions, even: an ad in your newsletter is an additional sponsorship inventory opportunity (consider creating a package where an advertiser buys both in audio and email form) and you can also use a spot in your newsletter to cross-promote other podcasts, too.
Are these actions inspiring you to create your own newsletter for your podcast? Excellent! Here are the basics of what you need to know as you start you own.
Who reads your newsletter?
Anyone who signs up and opens messages in their inboxes! More likely than not, your newsletter subscribers will fall into one of two groups:
Your engaged fans. They like what you create already and are happy for more direct contact with you. Help them by providing a peek into your production process, a reiteration of what you shared in your episode notes, or tease out new ideas for your podcast in your newsletter.
See it in action: Household Name's Brand New(s) includes a peek behind the scenes on a recent episode.
Fans that need an email nudge to remember your podcast. Since newsletter readers also have another way to learn when a new episode arrives, this is a welcome personalized reminder amidst a flurry of other notifications. Consider these fans engaged-in-training: they definitely want to listen, and that's step one in bringing them closer to you and your show. Help them by providing an enticing explanation of a new episode.
See it in action: Footnoting History sends an update every time a new episode comes out, complete with emoji-filled subject lines and a link over to an article on their podcast website.

Definitely makes you want to click, doesn't it?
When do I send it?
It's up to you, though we encourage you to start small. Consider this: a newsletter adds value to your podcast, so if you don't have anything specific to share, you don't need to send an update. Luckily: you have something worthwhile to share regularly—a new episode of your podcast!
A new episode reminder. A simple and effective approach to keeping your newsletter active is to include something to keep an ear out for in a recent episode and an encouragement to pass this episode along. Email newsletters are frequently read on phones as well, which means sharing a link to your podcast that works for everyone. (Perhaps on iPhone and Android and perhaps even on the web to boot? We've got just the link for you.)
Additionally, if your episode includes visuals or supplementary reading, that's a good thing to add. Make the most of those additions by adding them to an article on your Podsite to ensure that all your listeners—not just the ones reading your newsletter—can access them too.
See it in action: The Titanic Minute's weekly updates written by a friend of the show included expanded musings beyond the week's episode, additional stories, and cross-promotional plugs for other minute-by-minute podcasts.
Expanding upon recent episodes. Episodes that prompt audience engagement can be redistributed via email as a continuation of the discussion started on your show.
See it in action: Death, Sex & Money's newsletter has three segments: a compelling introduction to a new episode, follows up with discussion and listener responses from recent episodes, and closes with podcast recommendations.
During a break in your season. If your podcast takes a seasonal approach, keeping your audience engaged with short dispatches on what you're working on to drum up excitement for the launch.
See it in action: An Arm and A Leg's newsletter publishes every other week in the off season, ramping up to weekly in the month building up to season two launch. Here's a blog post edition of their season two announcement to get a taste of their newsletter (with a handy call-to-action to sign up for said newsletter at the top of the article).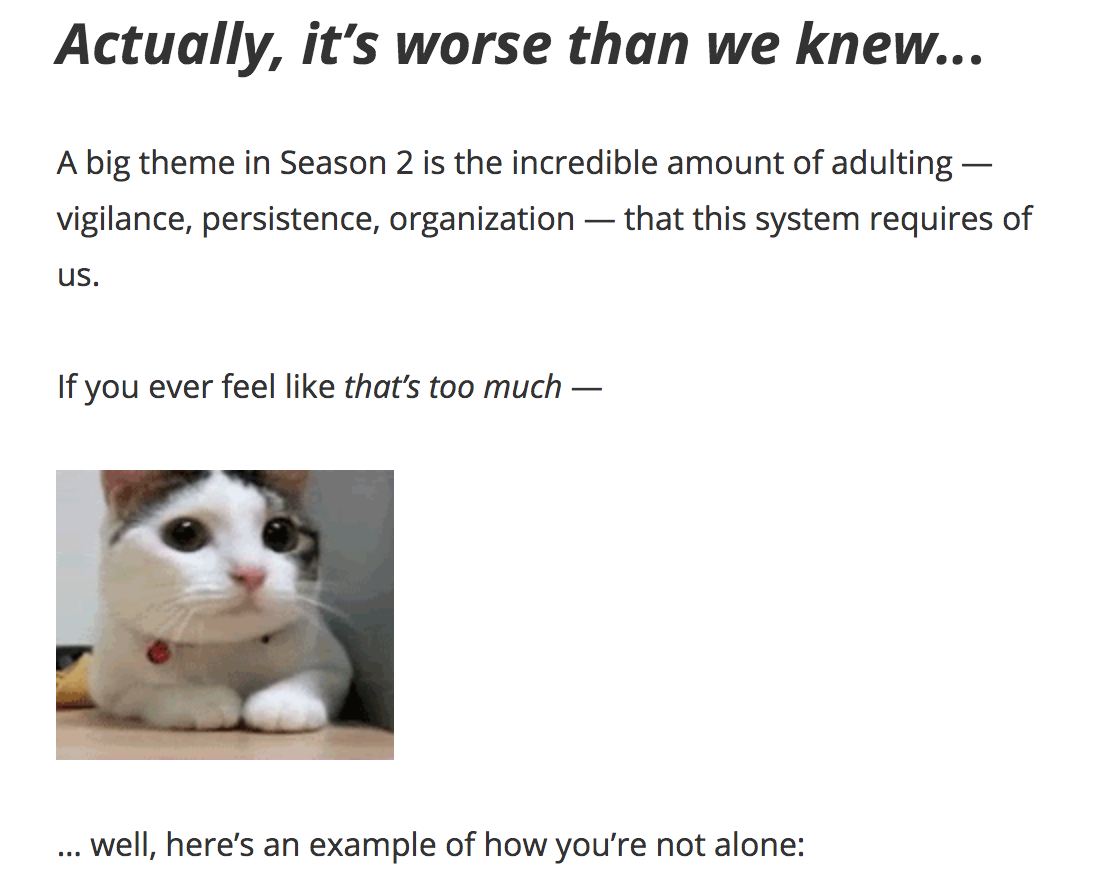 Yes, that's a gif of a cat shaking its head no, so… click on the article link we provided.
A special occasion. A moment for your fans to share in and celebrate your success! These can come from the outside (like an award nomination) or the inside (like a milestone for your show or announcing a live event).
See it in action: Ear Hustle's Webby and Peabody nominations along with the launch of their new website.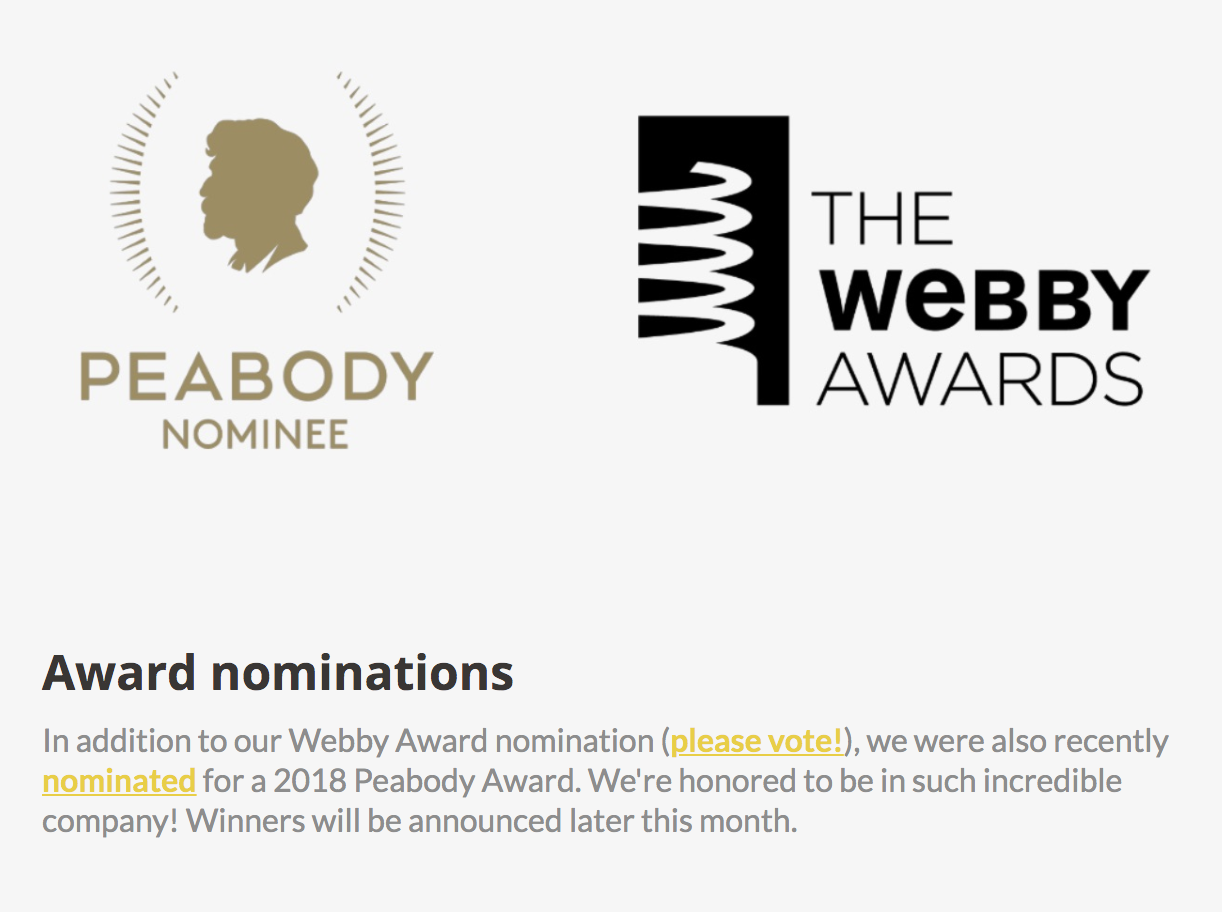 Newsletter-only exclusives. Your loyal fans have trusted you with their ears and their email address. Reward them for their ongoing support with a special offer only for your newsletter subscribers. This could be a very special newsletter-only episode, a giveaway, or an invitation to a private event or online community.
See it in action: that wouldn't exclusive any more, would it? (Well, more accurately: none of the email newsletters we're subscribed to have done a newsletter-only exclusive—yet! Is this you? Email details of your exclusive newsletter offers to librarian@radiopublic.com)
Now, all these newsletter examples focuses on an episode or a specific moment. These timely messages can be planned for in advance, though they'll almost always be reactive: something's happening, and you want to tell people about it.
If you're offering a consistent message, opportunity, or benefit to your audience, a drip campaign could be appropriate. These planned, proactive emails are automatically sent to a newsletter subscriber based on an action they took.
Some ways to use a drip campaign to prompt audience engagement:
When someone subscribes to your newsletter, welcome them with an exclusive audio clip.
On the one-year anniversary of someone subscribing to the newsletter, ask them to share their favorite episode with you.
On the yearly anniversary of your podcast, send a throwback episode from your first year of podcasting.
Where can I build my newsletter?
Using a third-party tool like Mailchimp, Tinyletter, or Constant Contact helps you both manage your mailing list and provide well-designed templates that work on mobile and desktop. These third-party tools also grow as your email newsletter audience grows, so you don't need to worry about reaching capacity as your show continues to gain listenership.
How do I get people to read it?
This is a question born of both "How do I direct people to sign up for my email newsletter?" and "How do I make my email newsletter worth reading?" Luckily, the answers are intertwined.
First question first: building your mailing list. Directing people to sign up for your email newsletter is an off-shoot of your podcast website. Include a signup link in a prominent place on your website, and link to your website in your show notes.
For Podsite users, you can easily add your signup URL from the Show basics section of your dashboard.
Making the case to your audience that your newsletter is worth receiving is all about creating an email newsletter worth reading. Here are some questions to get into the mindset:
Think about what your newsletter reader really needs. (And if you're not sure, ask!) Just because an email has been delivered personally to a fan's inbox doesn't mean that they open it, nor that they remain subscribed after receiving it. What subject lines will inspire them to open? Once they've opened, what did they receive that they can't get anywhere else?
Read other newsletters. You are probably getting a variety of them already, and so are your listeners. Which ones stand out? Which ones make you want to unsubscribe? How will your podcast's newsletter fit into this mix of messages in your audience's inbox?
Read other podcast newsletters. They're a constant source of inspiration for your design, subject lines and copywriting, and most importantly, content ideas. Listen for that call to action in the episodes you have queued, or sign up for any of the examples we shared above to jump-start your subscriptions.
Imagine what will make a fan click immediately on a message from you. As you receive other newsletters, notice when they arrive and when you open them. Which do you click on first? Which do you ignore? Why?
What goes into an email newsletter?
An email message has a structure, much like an episode of your podcast has structure. Same goes for voice: email newsletters that reflect your own emailing style are the easiest to create. Think of your podcast listeners as a friend you get in touch with every so often to say hello and share something cool you just made (and ask them how they're doing and to share something cool back every so often, too). Simple gets the job done.
Create a single template for your newsletter once, then reuse that design every time you send a message. This consistency keeps each new edition of the newsletter focused on filling in the words and then sending. All email messages include:
A subject line. Quite possibly the most important part of a message: this is what motivates someone to open your update.
A header image. Doesn't need to be fancy; your podcast artwork or a visually stylized version of your podcast's name can do the trick.
A genuine greeting. And no need to apologize if it's been a while since you last wrote. Your listeners are just happy to hear from you!
The reason you're sending the message, including any supporting links or images.
A sincere closing. Think of how you sign off on an episode.
A short signature that includes a link to your podcast website.
From there, you can get more elaborate in the contents of your message. Mimic the segments of your podcast in your newsletter. Include an "ad break" text box to mention a show sponsor or a podcast cross promotion. Close out a message with credits and thanks.…and with that: thanks for reading, dear podcaster, and go forth and write great emails!
Do you have a podcast newsletter you're proud of? We'd love to read it. Tweet a link to your podcast website's newsletter signup page to @radiopublic.