A handpicked collection of the best free podcast design resources and tools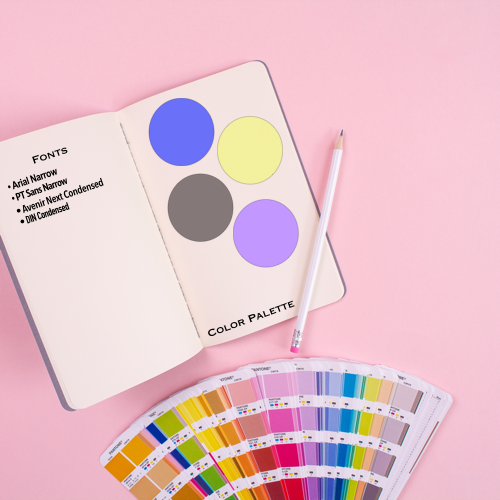 Much like your podcast, a website is a combination of visuals and words. With your podcast, your audio speaks for itself and with a podcast website, you have space to say (and show) even more. A strong visual brand does more than catch the listeners eye in a podcast directory: the combination of colors, images, and style complete the package for your podcast wherever it happens to be, all over the web.
Beyond your podcast artwork, what else visually represents your show?
Banner artwork. Your banner artwork is a companion to your podcast logo. Use this singular piece of art as a header image for your social media account, Podsite, or email newsletter. (Another place you've seen banner artwork: an Apple Podcasts feature uses them too.)
Episode artwork. These accompany the episode in a podcast player and can be used in accompanying articles, in your email update about a new or archival episode, and on social media. Unlike banner artwork, you may have several different versions of episode artwork that all stick with a similar style.
Colors. The color(s) used in your podcast artwork can expand into a palette of colors that work together. Use a color picking site like Adobe Color or the HTML Code Color Picker to create your palette.
Website builders use templates to simplify the design process for busy creators like yourselves, and part of what makes a template go from standard to stellar is the touches you put on it. In the case of your podcast website, those are the visual representations of your show, which can be expressed through the use of colors, photography, and other imagery.
Getting started with visual branding for your podcast
Since podcasters wear many hats, we want to help make the "Visual design creator" cap as simple and beautiful as possible. We collected some of the best free online resources to help out podcasters like yourself:
Have a favorite design resource of your own? Tweet your suggestions to us: @radiopublic
If you decide to hire someone to create a visual brand for your show, take a look around you. If there's an artist whose work you admire on Instagram, reach out to see if they're open to licensing their work or a commission, or you can ask for recommendations from a friend. To get you started, we've also surfaced a few directories of creative people to admire and hire:
We asked around and heard some of the following ranges for prices: licensing an image for limited use starts in the $150-300 range, commissioning an original work starts in the $250-$1,500 range, and designing a whole branding system including fonts, colors, etc. starts in the $1,000-$3,000 range. Amanda McLoughlin from Multitude Productions says, "If you're going to spend money on your podcast, spend the first $85 on a microphone. Spend every other dollar you have on your show art, ideally $250-$1,000."
Branding your podcast website
The option to create a visual gallery within your website means that you have an infinitely flexible space within your website hub to add some special flair to your own site.
Here are some ways to creatively implement a gallery on your podcast website to show off:
Listener reviews or press coverage (and link off an external article)
Team members or cast/crew (and link off your about page)
Individual episode artwork (and link off to the episode on your site)
A memorable quote from each episode (and link off to the episode on your site)
A choose your own adventure exploration that parallels the characters in your audio fiction podcast go through
A selection of complementary podcasts to listen to once a fan has completed your archival episodes.
And that's just what we came up with in a few minutes of brainstorming. What seems like a limited set of frames is completely ready for your out of the box creativity!
Want some inspiration to get started? Check out the galleries on Molly of Denali (showcasing characters from their show; you can read more about their origin story in their Gain interview), The Show about Science (showcasing more places you can hear from Nate), and A Podcast Website (showcasing a meta collection of Podsites).
Here's how to create a gallery on your Podsite:
1. Login to your Podsite dashboard and make sure you've selected the Angular layout in the Design tab.
2. From the Home tab\, visit the Gallery section.
The image is the only required element. The image specs are 312x560 pixels. (Not sure if you want an image? Try creating a block with the image specs that is just a solid color.)
There are three placements for** text**: Item title (at the top of the image)\, Highlight text (in the middle of the image)\, and Call to action text (at the bottom of the image). You can choose one\, two\, or three (or none) of the text fields.
Not sure what text will look good with the image you selected? There's a live view to see how the words and background play together.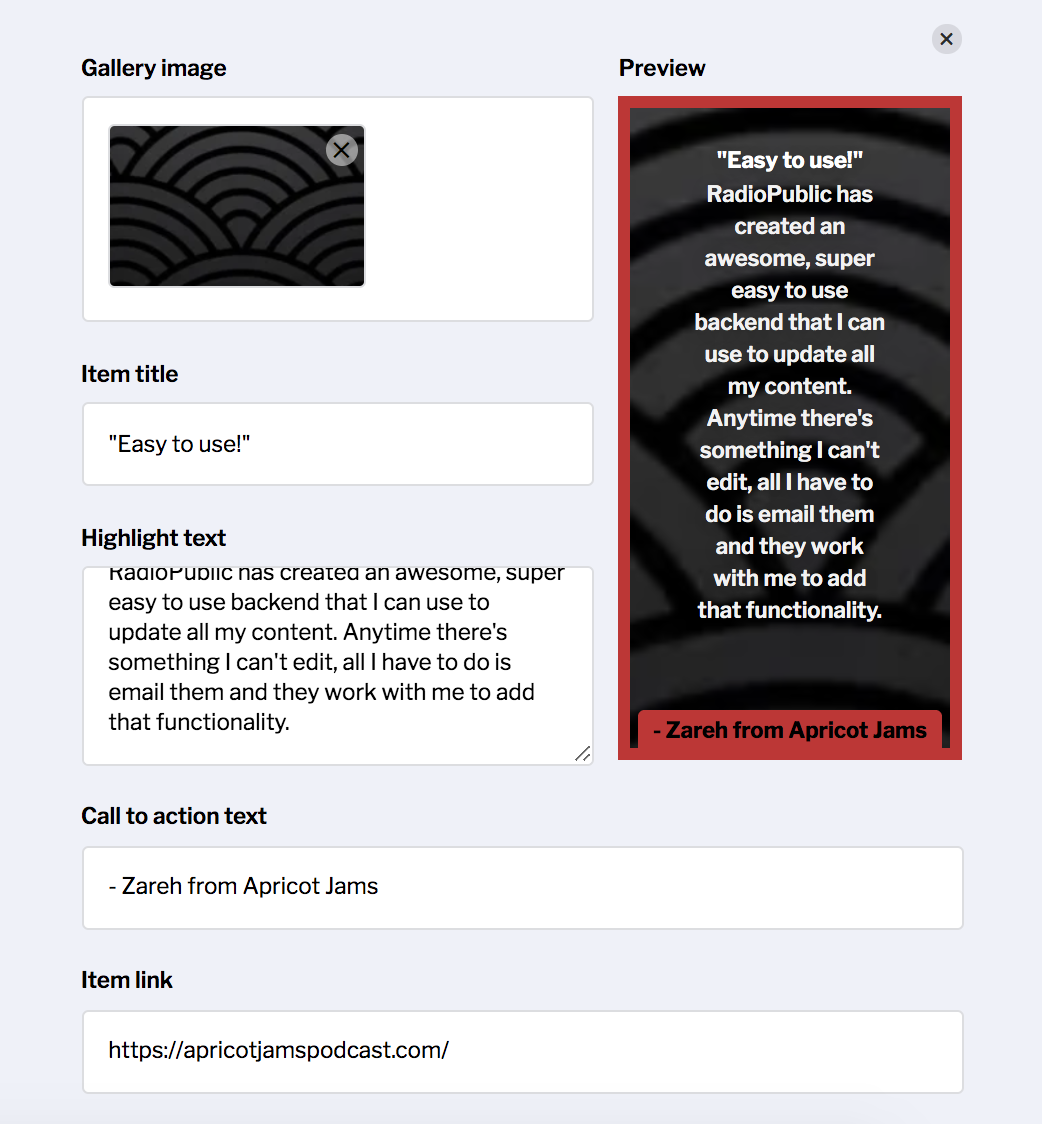 The dashboard view for adding content to a gallery on a Podsite.
Want to point people beyond your Podsite? Add a link to the Item link field to make the whole image clickable.
3. Fill your gallery with beautiful\, creative\, awesome things that make your podcast yours. (Particularly proud of your use of a Podsite gallery? Send us a note with a link to your site: podsitehelp@radiopublic.com
Want a podcast website that'll put your podcast artwork to work?Start your free Podsite trial today.