Welcome to Gain, an interview series where we ask podcasters about the backstories of the great work they're creating.
Today, we're speaking with DJ FYEMEUP, the host of #FYEMEUP ATL: a collection of indie music from the perspective of a DJ in the Metro Atlanta area. The podcast launched in August 2016 and is based in Atlanta, Georgia.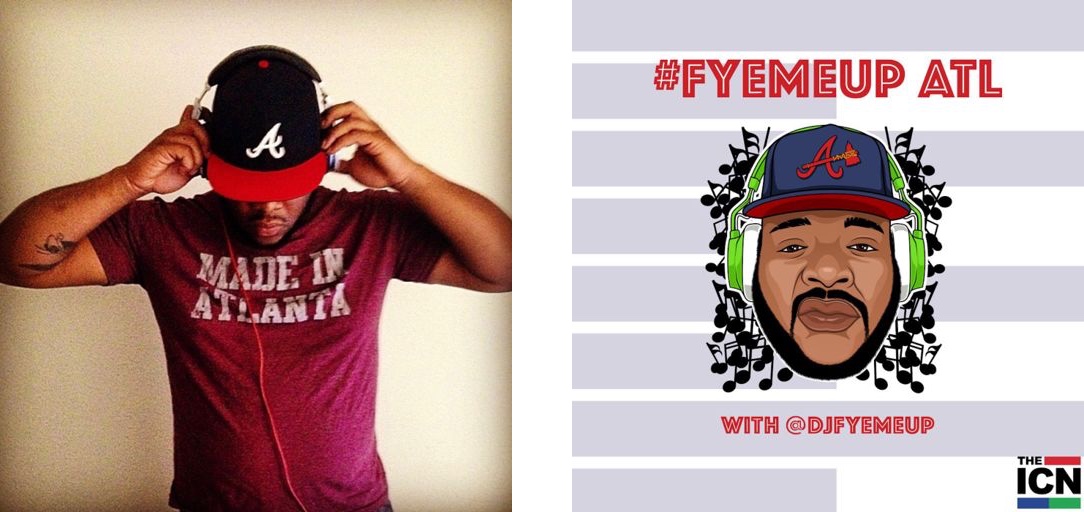 Listener NewAtlanta says about his show: "I always find a gem or two on FyeMeUp's lastest podcast. I can respect a DJ that continues to work with artists to break new music. Stay Lit, Fye."
Where did your podcast idea come from? What's the backstory on your podcast's name?
The idea for the podcast came from Wize, the Founder of IndieCreativeNetwork (ICN), actually. I was already doing DJ mixes for an online radio station, AUMA Radio, for fun. My homie (Super Producer/DJ/Event Curator/Podcast Curator) LastNameGood already knew Wize and gave him my number. How Wize heard one of my mixes I still don't know. But he told me how he "liked how I was spinning real good indie artist music in my mixes," and he wanted to add me to ICN. I'm from and lived in Atlanta, so I thought it would be dope to focus on the up-and-coming artists in Atlanta, since there were so many breaking through to the mainstream. And the rest is history.
My DJ name is FyeMeUp. Fye Me Up is a southern slang. Pretty self-explanatory. Fye Me Up (Fire Me Up) artists love to use the slogan when it comes to me playing their music. We decide to keep it short and simple #FyeMeUp ATL, meaning we are going to fye the world up through the Atlanta Indies music scene. And we put the hashtag because we wanted the word #FyeMeUp to trend and be easy to follow. Now, any time an artist or anyone supporting reposts or comments, more than likely they will include that hashtag. I believe it can truly be a movement, especially when it comes to showing the quality of good artists that aren't being heard. Every city that supports indie music should have a #FyeMeUp hashtag.
Who was the first person you told about your podcast?
The first two people I told were Franchesca, the mother of my children, and LastNameGood, the guy that introduced me to the indie scene in Atlanta. We started doing indie hip hop shows back in November of 2014 in the West End district of Atlanta twice a month. So, honestly, he became one of my biggest supporters and also a mentor to the indie scene.
When did you announce your podcast's existence to the world? How did you do it?
I announced it the same day it was released. I want people to be able to listen to the idea of the podcast. I wanted the world to feel it soon as they first heard it.
Twitter and Facebook were the first places where I announced the launch. The response was grand. I already had a nice following due to the fact that I was supporting local and out-of-state artists heavily with my live shows. Every artist on Season 1, Episode 1 I had either already met, did a show with, and/or had some type of relationship with, just from the support I had shown.
Why did you want a podcast website for #FYEMEUP ATL?
I wanted the website to help promote the podcast. Just the thought of having a link that could explain and break down the history of the podcast got me excited. What really sold me was the fact that RadioPublic was involved. I could promote the app and my podcast at the same time.
You publish a new episode of your show. What's your approach to promoting it?
Social media – Twitter, Facebook, Tumblr, and Snapchat. I tweet the podcast and include the different artists that are featured on each episode.
What's your favorite episode of your podcast? Why is it your favorite?
I have many favorites episodes. But my absolute favorites are:
Season 1, Episode 1 is one of my favorites because of how raw it is. At the time, we were talking some of the best indie music coming out of Atlanta.
Season 2, Episode 6 and Season 3, Episode 5 are interviews with a group (Paid In Amerikka) and Franko Shack. I really enjoyed sitting down and getting to know different artists.
And Season 4, Episode 25 Part 3-4, was a part of a 4-show series, where I went and grabbed some of the best tracks from all of the seasons and put them into a mix for 4 episodes: Celebrating #FyeMeUp ATL podcast's 100 episodes.
Describe a recent time you talked about your podcast in person. Who were you talking to? What did you say to help them learn more about your show?
The most recent time was the last time I was riding in an Uber. I'm always telling the driver or share rider about my podcast. First, I ask, "How do you listen to any podcast in particular?" Then I ask, "How do you listen to music?" (Like which app or website)
Since most of my mixes are no longer than 45 minutes to an hour, when I'm promoting, I'm constantly telling people, "It's great for your morning commute when you just want to hear quality music."
When you record your podcast, you might think about your imaginary listener who will hear this episode soon. What's your mental image of this listener, and how do you incorporate their needs into your recording?
When I'm picking and sorting through the music that I have selected to share to the world, my mindset or my mental is strictly focus on letting the world know that the South has something to say, beyond just Trap beats and Trap/Mumble Rap.
When I'm interacting with fans, supporters, or people in general, I'm constantly asking, "Do you know someone that's doing music locally?" I ask people to tag a friend or an artist that they would like to hear on the next episode. Based on the volume of requests, during season 5, which I will be releasing real soon, I will include more interviews. I want to spotlight more on the artist that is really pushing their craft. We will focus more on particular independent artists out of the state of Georgia and the Greater Metro Atlanta Area.